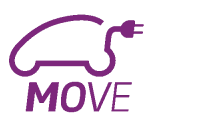 MOVE is a Swiss CPO and MSP and gives you access to approx 2,500 chargers in the Swiss region.
General website:
MOVE Light
Austria, Switzerland, Germany, France, Italy, Netherlands, Liechtenstein
Request for free,
no monthly costs.
Average price per 200kWh*
€ 96,00
96.00
(Based on 200 kWh)
600+ Chargers in Switzerland
Their charging key is quite expensive, about €6,- per hour for AC and €18,- per hour DC. They also provide access to their roaming partners at better rates.
Phone number international