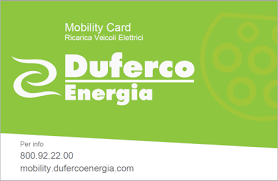 DUE Energy is next to ENEL the second largest network in Italy. They ship their card also to foreigners. You can use the DUE Card on ENEL charging stations as well.
General website:
Duferco Energia (DUE)
Approximately €0,38 / kWh.
Unknown costs for requesting,
€ 0,50 per month.
Average price per 200kWh*
€ 86,00
86.00
(Based on 200 kWh)
[Italy] | Works at most ENEL stations too. Pay with Paypal.
You really need this RFID card when visiting Italy.