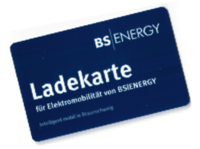 BS Energy is a energy supplier in the municipality of Braunschweig. Most charging stations are free to use with this card.
General website:
BS Energy
Unknown subscription fee,
€ 15,00 connection fee.
On most stations in and around Braunschweig the charging is for free.
Average price per 200kWh*
€ 0,00
0.00
(Based on 200 kWh)
Charging in Braunschweig | Free on most stations
Roaming tariffs and possibilities unclear.
Local card, usefull for people wich are around Braunschweig on a regular basis.