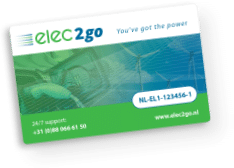 Elec2go is a small company witch delivers their card on the Last Mile Solutions backend. Therefor their card has high compatibility and low pricing.
General website:
Elec2go
Belgium, Germany, France, Luxembourg, Netherlands, Latvia, Austria, Czechia, Denmark, Spain, Finland, Ireland, Lithuania, Norway, Poland, Sweden, Slovakia, United Kingdom, Slovenia, Croatia, Romania
Belgium, Switzerland, Germany, Italy, Luxembourg, Netherlands
Request for free,
no monthly costs.
Average price per 200kWh*
€ 74,80
74.80
(Based on 200 kWh)
Fairly priced charging card for daily use, also abroad. Free rfid keychain on the same account.
No Ladenetz (DE) Support. Roaming costs.
Unfortunately no advice here, since we are still collecting data about this MSP.
Hubject, Gireve, E-clearing, E-violin, Ladenetz
Shell-Recharge
Fastned
Ionity
Allego
Corri-Door
Vattenfall
Ladenetz
EnBW
EON