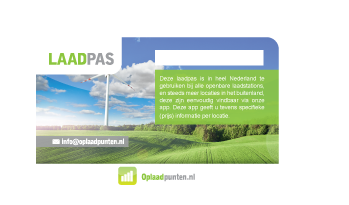 Oplaadpunten.nl is a charging card on the Last Mile Solutions back-end. Their tariff is 1c per kWh.
General website:
Oplaadpunten.nl
Belgium, Germany, Spain, France, Luxembourg, Netherlands, United Kingdom
CPO tariff with additional €0,01 / kWh roaming costs
Request for free,
no monthly costs.
Average price per 200kWh*
€ 73,04
73.04
(Based on 200 kWh)
Very affordable RFID for EV's with small batteries (<25kWh)
Roaming costs can add-up if you'll be charging large amounts
Use this free charging card for small charging sessions.
Hubject, E-clearing, E-violin, Gireve, Ladenetz
Shell-Recharge
Fastned
Ionity
Allego
Vattenfall
Ladenetz